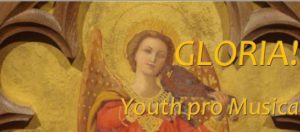 [Presented on December 16, 2012]
Robert Barney, director 
Yvonne Gobis, accompanist
Robert Barney directs the young choristers of Youth pro Musica 
in their annual winter holiday concert,
"Gloria! — A Baroque Holiday," on Sunday, December 16 at 4 PM at
Second Church in Newton, 60 Highland Street in West Newton.
Youth pro Musica's three choruses will sing Vivaldi's magnificent "Gloria," as well as Handel's "Let the bright seraphim" from the oratorio Samson, Bach's aria "Wie will ich much freuen" from Cantata 146), plus songs by Purcell and others. Yvonne Gobis is YpM's accompanist.
Youth pro Musica is a community of young singers inspired to excellence through meaningful repertoire, comprehensive musical training, and memorable collaborations and performances. This season YpM has already sung for the American Academy of Arts & Sciences and joined the Newton Choral Society for a performance of Orff's "Carmina Burana."
Robert Barney, YpM's artistic director, is now in his fourth season with Youth pro Musica. An accomplished singer, organist and choral director, he has worked with young singers for more than a decade. Under his leadership, YpM has collaborated with several of Boston's premier choruses and toured Montreal last year.