Youth pro Musica
Celebrating 45 Years of Excellence in Choral Training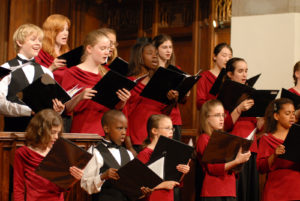 See where YpM has performed:
Performances and Events
Venues
Serving the Community
Youth pro Musica: The Greater Boston Youth Chorus (YpM) has introduced the joy and fellowship of choral singing to generations of young people.
Weekly rehearsals provide vocal, ear and sight-singing training, choral discipline and exposure to music in foreign languages – cultivated in team-building atmosphere.
YpM attracts members from all over Greater Boston, uniting young people from different communities based on their shared interest in music.
Youth pro Musica has appeared in some of the finest concert halls in the Boston area and beyond.
Over the years, YpM has performed with the Boston Symphony Orchestra (at Carnegie Hall, Symphony Hall and Tanglewood), the Boston Pops, the Tanglewood Festival Chorus, the Boston Camerata, the Masterwords Chorale and the American Boychoir, and has appeared on National Public Radio and television.
Recent highlights include a 2012 Trip to New York City, a 2011 trip to Montreal, Canada, where YpM performed with the world-renowned Les Petits Chanteurs du Mont-Royal, YpM's appearance in the premiere (and recording) of Ralf Gawlick's children's cantata Kinderkreuzzug, and appearances at Sanders Theater (Harvard University), Faneuil Hall and Jordan Hall with Chorus pro Musica.
YpM has commissioned works and appeared in several world, national and regional premieres.
YpM is committed to serving the community as well. Members have performed at hospitals, nursing homes, libraries and benefits for organizations such as the Salvation Army, Oxfam, Santa's Kitchen, Pitching in for Kids, and MUSE (Music Serving the Elderly).
Youth pro Musica celebrated 40 years of excellence in choral training in 2012 at its 40th Anniversary Concert and Alumni/ae Reunion.
Artistic Leadership
Youth pro Musica was founded in 1970 as the children's branch of Boston's Chorus pro Musica by Director Emerita Roberta Humez, a charter member of that organization. Mrs. Humez directed YpM for its first 25 years, establishing the group's commitment to new music and reputation for outstanding musicianship and professionalism.
In 1995, Mrs. Humez passed the baton to Hazel Somerville, who directed YpM until 2003. During Mrs. Somerville's tenure, YpM welcomed boys with changed voices. YpM also helped its Dorchester branch to incorporate on its own as the Boston City Singers.
Award-winning organist Peter Krasinksi led YpM from 2004-2009.
YpM was pleased to welcome Robert Barney as Artistic Director in 2009.